How to export your 3DF Zephyr project for Nira
Export > Export Textured Mesh...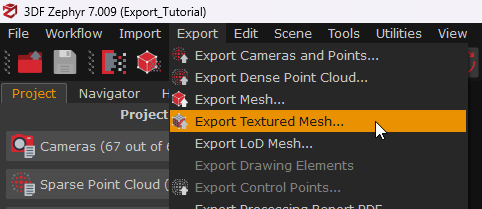 1. Disable Export Normals
2. Rescale Texture to: Nearest Power of Two
3. Enable Export metadata.xml
4. Enable Convert to Geographic Cordinates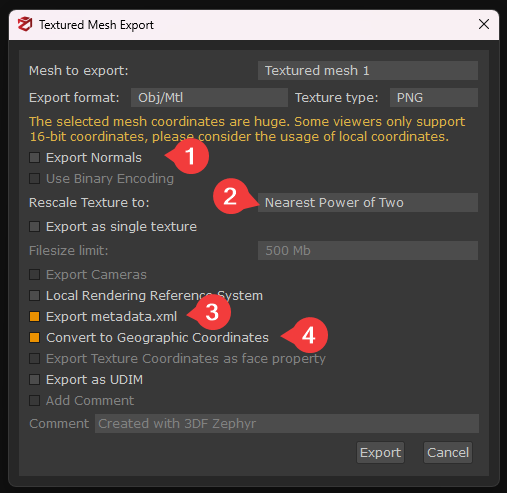 You will be asked for an destination directory.

The export process can take several minutes.
The resulting output will include the following:
1 xml (georeferenced SRS data)
1 mtl (material definition)
1 obj (mesh geometry)
1 or more png files (texture maps)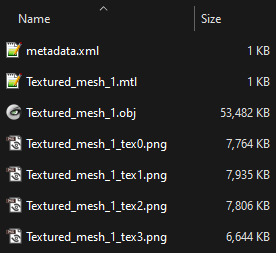 You'll want to upload all of the exported files into your Nira account together.
Camera position and orientation:
You can also upload your photos. Nira will eventually add support for camera alignment/aero-triangulation from 3DF Zephyr (Nira already supports this for RealityCapture, ContextCapture, and DJI Terra). Please follow this page to be notified of when it's ready.
Legacy documentation:
3DF Zephyr also supports direct uploading of assets directly to Nira. This method is no longer recommended. We discovered using the Upload to Nira option can be slower than manually exporting and uploading as documented above.
1. Be sure you're using at least version 6.507 of 3DF Zephyr.
2. Navigate to Export > Export Textured Mesh... > Upload to Nira > Export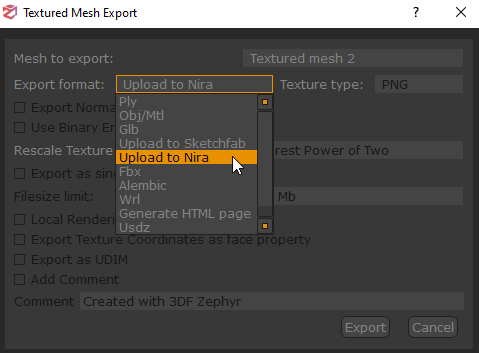 3. Log into your Nira account and retrieve your Nira API key id and key secret. Paste them into the Nira Uploader Settings dialog (shown below). You will also need to provide the name of your organization (e.g. your-org.nira.app). The server settings are saved, so you won't need to provide them again for future uploads.
4. Finally, type a name for your asset, then click OK to start the upload.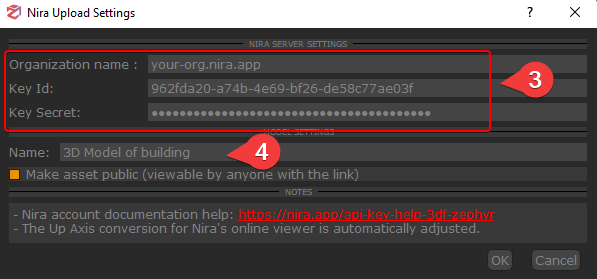 Note: Your name will automatically be appended with a number if an asset with the same name already exists in your Nira account. For example, 3D Model of building will be renamed to 3D Model of building (2).
0
0
Was this article helpful?
0 out of 0 found this helpful