An Inspection Link allows collaborators to view and partially edit Nira assets without requiring a Nira user account.
Inspection Links allow for:
Viewing an asset as an anonymous user
Basic editing (perform measurement and analysis using the 2D/3D callout tools) without a log-in. This is very useful for assets embedded into an existing platform that manages user control and privileges outside of Nira
The callouts will remain saved (measurements will be saved in a future update to Nira)
Generate PDF Inspection reports
Download previously generated PDF Inspection reports
Inspection links are unique URLs that are different than the default asset URL used for shared viewing or full editing (requiring log-in).
Inspection Links are off by default and need to be enabled. To do so, click the Share... button and enable Share using Inspection Link within the Inspection Tab...
You have the option to set a password on an asset using an Inspection Link.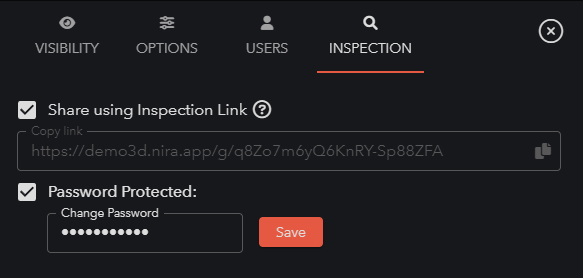 0
0
Was this article helpful?
0 out of 0 found this helpful