The Usage Type selection dialog
If you click on an asset that requires its Usage Type to be configured, the Usage Type selection dialog will be shown. You'll need to pick a Usage Type before sharing your asset. Continue reading to learn how.
Note: During a trial of Nira, all assets are Premium and you cannot select a usage type. More Info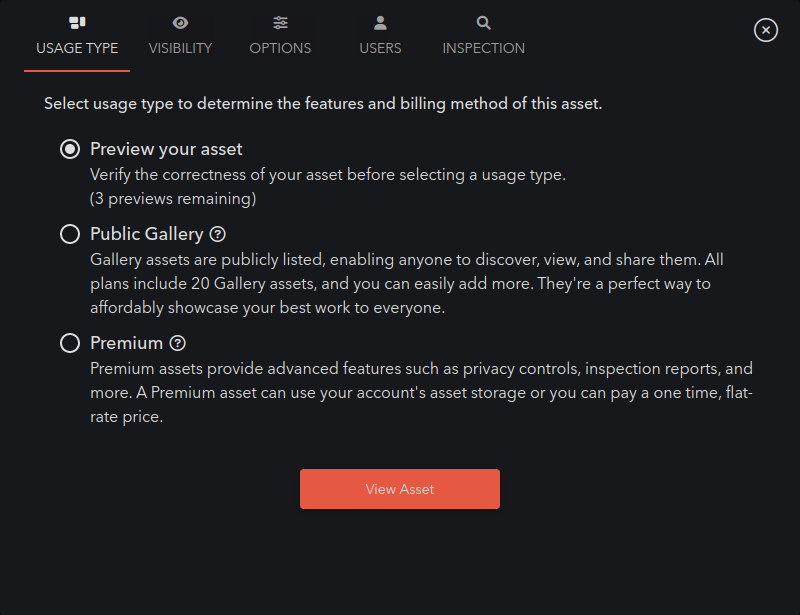 First, preview your asset
If you haven't viewed the asset yet, it's best to pick the ⦿ Preview your asset option and press the View Asset button. This will open the asset in the Nira viewer so you can verify its correctness. If you notice anything unusual about your asset while previewing it, the Upload & Verify your asset section of our documentation has tips and answers to many common questions.
Once you're happy with the way your asset looks, it's time to pick its Usage Type. This will determine the features and billing method for the asset.
Should I pick Public Gallery or Premium?
Choose ⦿ Public Gallery if you'd like for anyone to be able to find the asset on your Public Gallery page and your asset doesn't require inspection tools, embedding, branding, or any of the other Premium asset features. All plans include 20 Gallery assets and adding more is only $5/month per 10 assets, making Public Gallery assets the more affordable option in nearly all cases. Also see What is a Public Gallery asset? to learn more about Public Gallery assets.
Choose ⦿ Premium if you need to control whether others can discover your asset or if it requires inspection tools, embedding, custom branding, or any of the other Premium asset features. When choosing ⦿ Premium, you'll also need to pick between using your asset storage or a making flat-rate payment. Read Asset storage or flat-rate payment to learn more.
0
0
Was this article helpful?
0 out of 0 found this helpful