I uploaded assets during my Nira trial and/or Early Access. What will happen to my assets after start my subscription?
After subscribing, you'll still have access to your previously uploaded assets for 30 days. It's important to specify each of your assets as either Premium or Public Gallery (instructions outlined below) to ensure that they remain accessible to you and anyone else that you shared them with within 30 days of your subscription. The FAQ at the end of this article is also helpful with answering most questions.
1. Just after subscribing, you'll receive the dialog below. Click the your asset list link. If you no longer see this dialog, you can click on the Asset List button in the upper-left corner of your Nira page. Be sure you're logged in first.

2. You'll now be shown your asset list with the following message banner.

The click here link will filter your list so that you only see assets that need their Usage Type specified.
3. Click on the "Not Specified" cell for any asset in your list: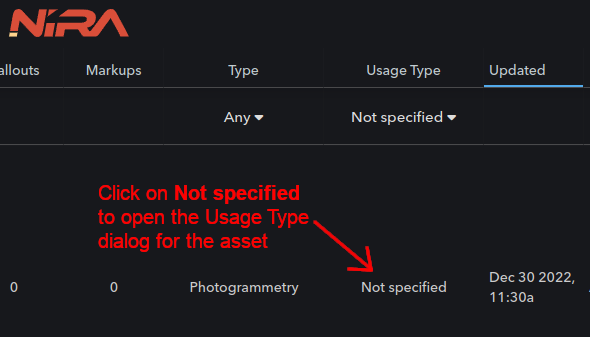 4. You'll be shown the Usage Type selection dialog as shown below. Select either Public Gallery or Premium and click Save. To learn more about how to choose, see How to pick a usage type for your asset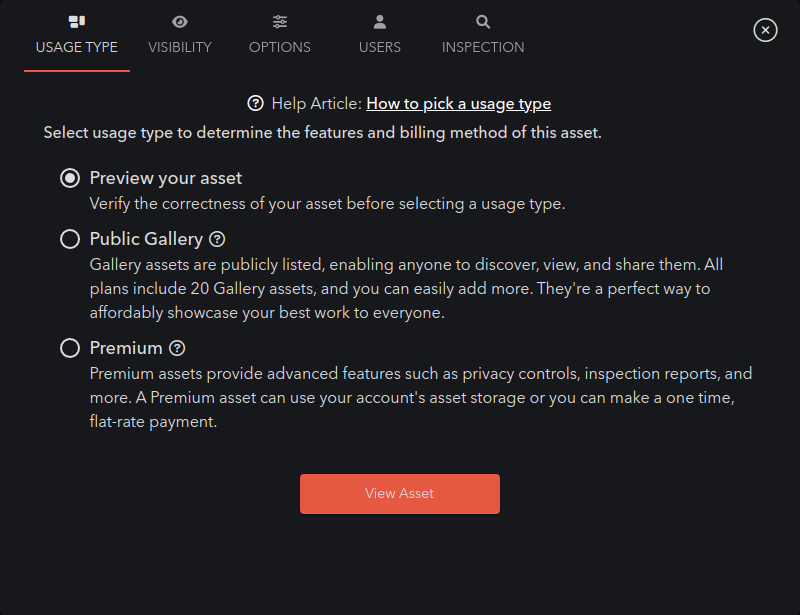 5. You'll be shown your filtered asset list again. If you still have assets remaining in your list, go back to step #3 above and repeat the process of choosing Premium/Gallery for another asset. Proceed until you don't have any assets in your filtered list.
6. After you're done, you can clear the search filter on your asset list by choosing Usage Type ▸ Any or clicking the Clear search filters link shown in the middle of your empty asset list: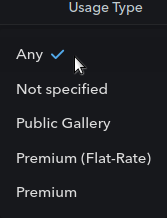 - OR -

FAQ
Q. I have questions about Premium Assets, Public Gallery assets, asset storage, flat-rate payments, and more. I'd prefer not to read several help articles. Is there a single resource that will answer my questions on these topics?
A. The Frequently Asked Questions section of the pricing page is the best single resource for those topics. Please feel free to contact us if you have any questions.
Q. I don't need an asset. Can I delete it instead of setting it as Public Gallery or Premium?
A. Yes, of course. For step #3, instead of clicking the asset's name you can click on the trash icon toward the right side of the asset list. You may need to scroll your asset list to the right in order to see it. The horizontal scrollbar will be at the bottom of your asset list page.
Q. After subscribing, what will happen to my assets if I don't immediately specify them as Premium or Gallery?
A. Assets lacking a Usage Type will remain available for 30 days following your subscription date. After this period, such assets will become inaccessible to you and everyone else you've shared them with, until you assign a Usage Type to them.
Q. I have a large number of assets from my trial or early access. The process above will involve too much clicking through my assets, and/or I'm having difficulty understanding how much things will cost. Do you have any advice?
A. Our help article Understanding plan costs if you have an existing asset library has some general advice. If you'd like assistance migrating to a new plan or understanding what your costs will be, don't hesitate to contact us -- We can create a custom invoice and perform a bulk configuration of your assets on our end to ease this process.
Q. I'd prefer not to have to deal with this at all. Do you have a general monthly flat-rate pricing option?
A. Yes, our Enterprise plan has a flat monthly or annual subscription price. Feel free to contact us for more details.
1
1
Was this article helpful?
1 out of 1 found this helpful