The standard $49 flat-rate price will be available any asset meeting these requirements:
| | | | |
| --- | --- | --- | --- |
| If your plan is... | Triangles | Textures | Photos |
| Nira Core: | Less than 50 Million | Less than 5 Gigapixels | Less than 10 Gigapixels |
| Nira Business: | Less than 200 Million | Less than 10 Gigapixels | Less than 20 Gigapixels |
| Nira Enterprise: | Custom, Contact us | Custom, Contact us | Custom, Contact us |
If an asset doesn't meet one of these requirements, you may be asked if you'd like to purchase it for its custom flat-rate price. Here is an example: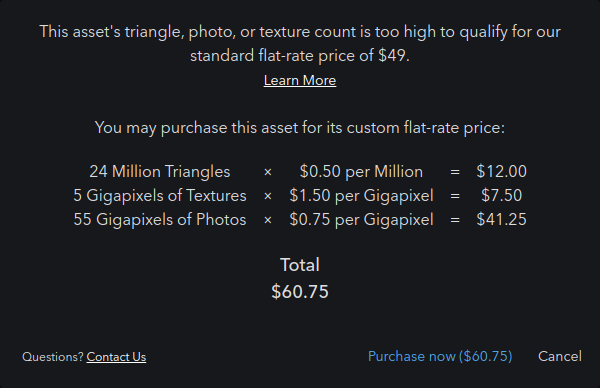 If you make this purchase, the asset will become a premium asset, and it will maintain its premium features for as long as you continue your Nira subscription at your current plan level (e.g. Core, Business, or Enterprise).
Listed below, you'll find current pricing for Flat-Rate custom quotes.
$0.50 per Million Triangles
$1.50 per Gigapixel of Textures
$0.75 per Gigapixel of Photos
We do provide additional discounts for exceptionally large assets, e.g., exceeding 200 GP of photos. If you have assets of this size, please contact us directly.
Please note, $49 is the lowest possible flat-rate price. Please consider using Asset Storage for small assets or upgrade to Enterprise for custom quotes if you plan to upload many assets.
Current limitation:
You cannot add any files to a flat-rate asset. If you require the ability to add files to the asset later, ⦿ Use asset storage is the appropriate choice.
1
1
Was this article helpful?
1 out of 1 found this helpful